Students activities
Acuvue day celebration: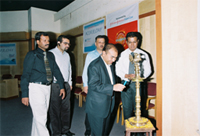 Bharati Vidyapeeth (Deemed to be University) Medical College, School of optometry, Pune celebrated "ACUVUE Day" at Bharati Vidyapeeth main auditorium. The program was sponsored by Johnson & Johnson Vision Care (JJVC). It was a full day celebration organized by students in relation to Contact Lens related activities – Scientific presentations, Role plays, Quiz and Poster competitions.

At the closing ceremony, the winners were given certificates and Cash prizes of Rs.2,000/- as first prize and Rs.1,000/- as second prize. Johnson & Johnson Vision Care also gave ACUVUE Scholarship for academic excellence. This will be given every year to the top three rankers in contact lens subject examinations conducted by the University every year. The top ranker received a cheque of Rs.12,000/-, second received Rs.10,000/- and third received Rs.8,000/- All these students were also given a nice scholarship certificate.
Master mind In-campus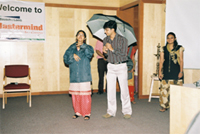 Master mind in campus was conducted by Bausch and Lomb in the college from January 2009 at Bharati Vidyapeeth School of optometrypune, Pune. Bausch and Lomb organized an event for certification of the student's who has successfully completed the program. Students from various colleges such as Lotus College of Optometry, Pune, Mumbai and Dr. D. Y. Patil College of Optometry Pune, Pune also joined the ceremony.
The program consists of presentation by the students, interactive role plays on contact lens related topics, debates, quiz competition. Students of Bharati Vidyapeeth won the price for role plays, debates and quiz competition.
Community work: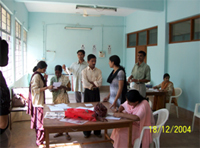 College conducts vision screening programs at many schools and colleges to create social awareness about eye health. College also conducts eye camps at the rural places where eye care practitioners are not available. College regularly conducts similar eye camps at Dapoli, 280 km. from Pune. Students visit and stay in the village for few days. They screen different institutions and organization present in Dapoli, prescribe glasses and advice them regarding eye care.
Students also enjoyed the Beaches and Fort visit after their work. In leisure time they are involved in various sports.
Awareness Program on HIV and AIDS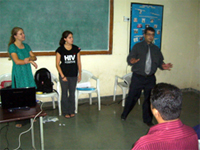 As a part of co-curricular activities, which are conducted at regular intervals in Bharati Vidyapeeth School of Optometry, Pune, a program on Be HIV Positive was conducted in association with Wake Up Pune organization. This program was organized on Saturday, 18th July 2009 and was attended by all the students and staff of School of Optometry, Pune.